London 2012: Coventry factory working 24 hours on torch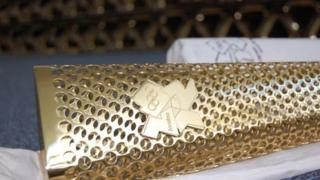 With 25 days to go until the start of the London 2012 torch relay, a Coventry factory is operating 24 hours a day to finish a very high-profile order.
Staff at Premier Group are working around the clock to complete an order for 11,150 torches.
The company, which normally makes parts for the automotive and aerospace industries, has taken on 50 extra staff to get the job done.
From the outside the building, on an industrial estate on the outskirts of the city, gives nothing away about what is being made inside.
Signs have been covered up as part of security measures which have also seen torches transported between sites under police escort.
Key codes and locks are used to keep the high-profile products safe.
'Sleepless nights'
Gez Halton, manufacturing director, said it was the most prestigious order the firm had ever worked on.
He said: "I can't tell Lord Coe it's going to be late.
"It's the biggest contract in the public eye so I'm feeling the pressure. I've had a few sleepless nights."
The torches start off as aluminium sheets which are sandwiched together and then cut by a laser machine.
The machine, a compact server, has been running for 24 hours a day, seven days a week, since November.
At the moment the company has 9,000 torches in various stages of production.
The laser machine cuts the holes - there are 8,000 to represent each runner - and the inner and outer aluminium skins.
'Honour for Coventry'
The torches are then sent to another site to be pressed into their three-sided shape.
They then return to the first site to be welded and fitted with the 2012 logo badge.
A top piece and base are also fitted.
Each torch has space for a burner and gas canister and an inside ridge which allows it to be connected to a bike or wheelchair.
They are then sent to another company to be polished and nickel-coated before being taken to another firm which electroplates them with PVD - a shiny gold coating which was chosen for its hard wearing quality.
Gary Mitchell, the factory supervisor who has been working for Premier for two years, said: "This is the biggest contract I've worked on.
"It's been hard work but it will be nice to say 'I made the torch'.
"It's an honour for Coventry to be chosen and get this recognition."
Although the company does not get to keep a torch it is already seeing the benefits.
Mr Halton said: "We've been offered other work off the back of this.
"Work was steady before this although obviously manufacturing had suffered a massive blow during the recession.
"This has shown we can diversify and do other things."