Ex-RAF serviceman turns handy man to help vulnerable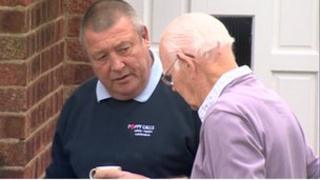 A County Durham man who served in the Royal Air Force for more than 20 years is now helping other ex-servicemen in the North East.
Kevin Higgins was in the RAF for 22 years as a movements controller for the transport fleet serving all over the world, including in the Gulf and Falklands wars.
After leaving in 2000, he began working as a joiner before joining The Royal British Legion's Handy Van Service.
Now he spends his time helping fellow ex-serviceman who are vulnerable, by carrying out jobs they can no longer do and providing them with someone to talk to.
The 54-year-old said: "It is the only job I have had where I go home smiling on a night."
The handyman service is provided by The Royal British Legion to help those who are no longer able to carry out household repairs and tasks like changing a light bulb or fixing a broken lock.
'A bond'
Mr Higgins and his colleague Alan Alton provide the service across the North East, all the way from Saltburn across to Darlington and up to Berwick-Upon-Tweed.
He said: "It is certainly a bigger role than I thought it was going to be.
"I just thought I would be doing odd jobs around people's houses, but we cover vast things.
"Just to meet the people, get their stories, and just to help people - it's doing nice things for nice people. It's great job satisfaction."
The free service is available to anyone who served in the UK Armed Forces or who is their close spouse, dependant or carer.
For Mr Higgins, this has provided a bond between him and the people he visits, as they share their stories about serving in the armed forces.
"You can understand where they're coming from and understand what they're talking about.
"You can see there is some sort of bond there between you both."
Alfred Walker, 87, was in the Royal Navy for three years and now relies on the service and Mr Higgins to help him around the house.
He said: "Kevin's a great lad. It is very nice to know that somebody will listen to you.
"He does jobs that I can't do... he's very important to me.
"He can come without doing the job as far as I'm concerned."
Mr Higgins now wants to help spread the message that the handy van service is out there and encourage others to get the help and company he and his colleagues provide.
He said: "One of the ladies I go to, she'll sit and talk and she'll tell me the same story every time I go, but you sit and listen as if you've never heard it before and you have a cup of tea and you say 'I'm sorry' in the right place - but that has made her morning.
"It's just really enjoyable rather than doing the mundane things day in day out, every day is different.
"It's absolutely brilliant."