Why are England's wig-makers thinning out?
By Navtej Johal
BBC News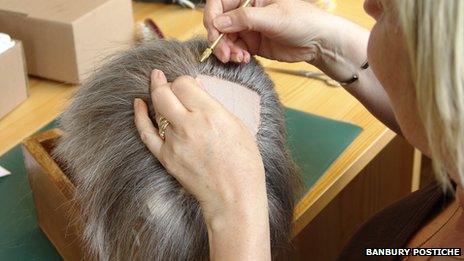 England's wig-making industry "has almost died", according to some of its most experienced figures.
But it is not the likes of Wayne Rooney and Louis Walsh turning to hair transplant surgery that has brought their traditional craft to its knees.
Instead the cause is high labour costs and competition from China that some in the industry say they simply cannot compete with.
George Theurer, chairman of the wig suppliers group at the UK's Hairdressing and Beauty Suppliers Association (HBSA), said: "Labour costs are much lower in China, the quality of what they produce is excellent and cheaper than what we can produce.
"There's a sad inevitability about it all."
Of the 25 wig suppliers in the HBSA most now concentrate almost entirely on supplying wigs made overseas. Only two still produce wigs from scratch.
One of those companies is Oxfordshire-based Banbury Postiche which has been producing wigs since 1914.
Alan Northcote, the co-owner and production director who has been hand-making wigs there since 1973, said: "It's a challenge - it's not like working in Tesco, zipping something through. I don't know any other job like it."
The company has gone from "30-plus people making wigs every day by hand" to just four, with production of wigs on site reduced from 400 a month in the 1970s to 25 a month today.
It also imports many more ready-made acrylic wigs now and sells materials to buyers ranging from other wig-makers around the world to film productions.
Production of hand-made wigs has also shrunk at Raoul in London which has made wigs since 1899 but now only employs two full-time wig-makers.
Managing director Carol Palmer has worked there for the past 36 years and feels the industry has become "spoilt by competition from China and the Far East".
"Their products are far, far superior and far more technology has gone into them. We don't use particularly modern techniques," she said.
The largest proportion of customers comes from the NHS through people who have lost their hair due to illness.
The rise in alternative treatments to combat hair loss, including hair transplants, has apparently not affected wig suppliers.
"It's more difficult than it has been, but our core business is this NHS side which doesn't tend to go into hair transplants because they need an instant fix and these other solutions aren't that," said Nick Allen, Banbury Postiche co-owner and sales director.
"With Wayne Rooney, for example, 20 years ago he would've just put up with it - shaved his head and that would be the end of it. He wasn't going to buy a wig."
Mrs Palmer agreed that it has had "no effect whatsoever".
"Saying that, I'm inclined to steer clear of men in toupees - a lot of them become obsessed by it," she said.
Instead, one of the most significant threats to wig-making at Raoul and Banbury Postiche is a lack of future talent.
"Finding new skilled people is going to be a challenge over the next 10 years," said Mr Allen.
"Alan's retiring next year - we can't replace someone of his experience overnight. We are unique and if we lose that skill set, it leaves a big hole.
"You can't pick this up in five minutes. You've got to have patience and dedication and, I don't want to generalise, but among the youth of today that's difficult to find."
Mrs Palmer said it took a "special sort of person" to be a wig-maker.
She said: "Over the years, I've shown an awful lot of people how to do it but they haven't stuck around."
Mr Theurer, who has been in the industry for over 60 years, echoed their concerns and said he believed the cost of labour in this country meant that was unlikely to change.
"The cost of making them here is not supportable," he said.
On average, it takes three months to produce a bespoke real hair wig, from the initial consultation through to fitting the final product on the customer, with the cost ranging from £500 to £2,500.
Although the number of companies still making wigs in England has dwindled, demand remains high; Banbury Postiche sold 10,265 wigs in 2011 with an overall turnover of about £2m.
Mr Theurer, co-director at A&A Studios in Scotland, remains "very optimistic" about the future of wig suppliers in England, if not wig-making.
"The industry here can't cope with the demand for wigs. Demand has gone up, production has gone almost to zero," he said.
"Look at it from the customer's point of view - the choice has expanded a thousand-fold. I welcome what we can get done in China and the Far East."
Mr Allen said: "I think there will always be a demand for wigs in this country. Wigs have changed so much even in the last 20 years - you only spot a bad wig."
Related Internet Links
The BBC is not responsible for the content of external sites.