Dorries calls PM and chancellor 'two arrogant boys'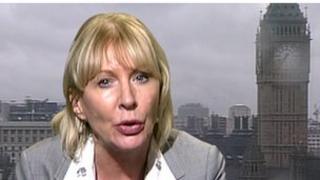 What does the future hold for Nadine Dorries after she launched a scathing attack on both the prime minister and the chancellor?
The MP for Mid Bedfordshire described David Cameron and George Osborne as "arrogant" and "out of touch".
She's clashed with the prime minister before and she's unrepentant over her most outspoken criticism yet.
In a blistering attack Ms Dorries said: "Unfortunately I think that not only are they two posh boys who don't know the price of milk but two arrogant posh boys who show no remorse, no contrition and no passion to understand the lives of others and that's the crime.
"I'm a Conservative MP in the Conservative Party and what I said was to appeal directly to the heart of Number 10, who have become disconnected."
Ms Dorries, whose constituency could go in the planned boundary changes, denies her comments are sour grapes: "We do not know if my constituency is disappearing yet.
"My comments were in the wake of the furore over the Budget, petrol, pasty-gate, granny tax. It's a shot across the bows that we need to connect."
Ms Dorries denied she has had any discussions with other parties. "I am not jumping ship to UKIP", she protested.
In response, the prime minister accepted all his MPs won't always agree with him and asserted that he does know the price of milk but he chose not to attack Ms Dorries herself.
East Anglian 'awkward squad'
Ms Dorries is one of several of our backbench Conservative MPs to criticise the prime minister in recent days. In Westminster I found no shortage of what is now a recognisable East Anglian awkward squad.
One tells me that dissatisfaction with the leadership is palpable: "Cameron and Osborne have managed in two years what happened to John Major in 10 years!"
Nevertheless a Cameron loyalist and senior member of the 1922 Committee said: "I love her as an individual but this time she's gone way over the top."
But he accepted: "There is a feeling that we're not speaking for the working man.
"I don't have any problems with the policies, we just need to communicate them more fluently.
"Our views are being communicated to Cameron through the chief whip and in face-to-face meetings. Initially he didn't get the message but I think he does now.
Another senior member of the 1922 Committee did not mince his words: "The government is arrogant, the handling of the granny tax was either lax or inept.
"If Cameron and Osborne had spent more time in the real world and less time climbing the greasy pole they might have a little less arrogance and more understanding of the real world."
Words echoed by Nadine Dorries who maintains she's trying to talk about the concerns of ordinary men and women.
"I'm not out of love with my party or with the values of Conservatism. I have been a Conservative for a very long time now - to the right of the party.
"There is a very elite clique operating around David Cameron, who regards himself as a social liberal. We are Conservatives I think that probably is the problem."
And likely not to be the end of David Cameron's.