Norfolk MP fights for Lotus to stay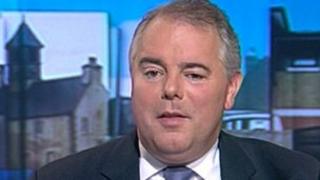 Richard Bacon is fighting to keep the manufacture of sport and racing cars in the county and the MP for South Norfolk has raised the future of the Lotus factory in the House of Commons.
The Conservative MP outlined how important the factory in Hethel is for Norfolk, and he wants a guarantee that manufacturing and jobs will stay in the county.
"Group Lotus is a local and a national icon. It is a famous sports car manufacturer with a very special heritage, and also an important global engineering consultancy," he told the House.
There is much speculation at present around prospective buyers of Lotus. Two Chinese companies have been mentioned and Mr Bacon explained in a nutshell what the fear is.
"Following the Malaysian government's recent sale of its stake in Proton Holdings - a Malaysian company that is the owner of Group Lotus - to another Malaysian company, DRB-HICOM, the new owner may respond to what are said to be a number of Chinese businesses that would like to buy Lotus and relocate the manufacturing to China."
"Lotus has experienced financial difficulties at times, but it was profitable as recently as 2008-09, when the Group Lotus annual accounts show a profit before tax of £1.5 million. It is important to emphasise this point as one will find many incorrect references in the automotive press to the "fact" that Group Lotus has never made a profit since it was bought by Proton, when the actual facts are that the company has been profitable quite recently," he added.
'So successful'
He was supported by other Norfolk MPs. Elizabeth Truss, (Con) Norfolk South West, pointed out that engineering skills are vital for Norfolk where there is proposal for a school specialising in them.
She said: "The creation of the proposed maths and science free school for 16- to 18-year-olds will be important to the development of those skills and to Lotus and other engineering companies across the county."
Simon Wright, the Liberal Democrat MP for Norwich South, praised the company's development of low carbon technology: "Whenever I have visited Lotus, I have been impressed to learn about its advances. If Lotus were to leave Norfolk and the UK, it would risk losing access to skills and expertise."
Mr Bacon said that the production side of the business has been doing very well: "It has built tens of thousands of relatively affordable and cutting-edge sports cars, employing many local people in the process.
"The consulting side has been so successful over the years that it is said that one in 10 cars in Europe has something in it that derives from Lotus's intellectual property."
Mr Bacon confirmed: "The great fear in South Norfolk is that there will be a repeat of the MG Rover saga, when the remnants of a once great British car company were picked up from the scrap heap and put on a boat to China."
It's one slow boat to China that the South Norfolk MP would like to avoid for if manufacturing moves there, up to 1,200 people could lose their job here.