South East whooping cough increase prompts GPs' jabs call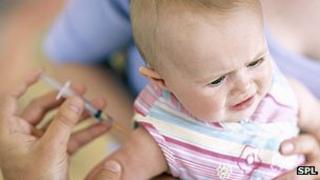 GPs have urged parents to immunise children against whooping cough after a rise in cases across the South East in the first three months of this year.
Across England and Wales, 665 cases were reported to the Health Protection Agency (HPA) between January and March. The South East figure was 154.
HPA figures showed the South East had 194 cases during the whole of 2011.
Kent GP Dr Peter Biggs said whooping cough had not gone away and urged parents to keep up with jabs.
Severe coughing fits
The GP from Canterbury's Northgate Medical Practice said: "It is every child's right to receive immunisations against preventable illnesses such as whooping cough and measles, and it is every parent's responsibility to ensure that these are given.
"These diseases have not gone away, and it is really important that parents understand the importance of keeping up with immunisation schedules."
Whooping cough, also known as pertussis, can affect all ages, but young children have the highest risk of severe complications, the HPA said.
The main symptoms are severe coughing fits which, in babies and children, are accompanied by the characteristic "whoop" sound as the child gasps for breath.
The HPA said the rise in cases across the South East reflected a national trend with an increase seen in all regions.
Experts said whooping cough could spread easily to close contacts such as household members and vaccination was the most effective way to protect people from the infection.