Charles Green: Victim's crucial 'voice from beyond the grave'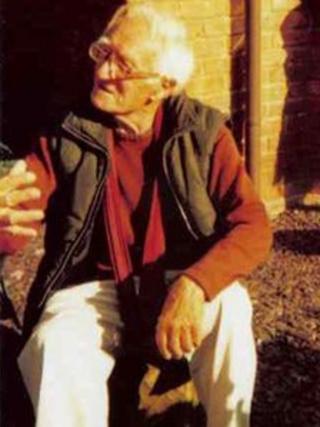 Charles Green was in bed at his home in Shropshire in the early hours of 2 May 2011 when he heard a noise.
The 87-year-old got up to investigate but as he left the room he was grabbed and thrown to the floor.
He was held down and threatened with violence as his home was searched for valuables.
When his attackers left Mr Green made a 999 call.
The police arrived and one of the officers, who was wearing a "headcam", interviewed him before paramedics took him to hospital.
Mr Green's condition worsened and, a month after he was admitted to hospital, he died.
But he was able to give evidence "from beyond the grave" after a judge ruled the headcam footage was admissible as hearsay evidence.
"In the month between [the burglary] and his death he was not in a fit state to give a statement to the police," said Stephen Bacon, Senior Crown Prosecutor.
"But he had made a 999 call which was recorded and there was the headcam footage.
"The judge allowed the 999 call and most of the headcam footage, so a key part of the evidence was a voice from beyond the grave.
"The headcam clarified the key points of what happened and the force used on him."
Daniel Keeble, 26, of no fixed abode, and 24-year-old Peter John Marston, of Stafford, have both been convicted of manslaughter, at Stafford Crown Court.
Joint enterprise
Mr Green had head and arm injuries as well as a fractured pelvis.
A geriatrics expert said his injuries had led to a gradual decline in his condition and his death a month later.
Mr Bacon said the headcam evidence was "vital" for proving both men were in the house and that the burglary was a joint enterprise.
Mr Green said on camera that one person held him down while another searched the bungalow - proving both men crossed the threshold of the property.
But both defendants' barristers objected to the evidence being admitted at all.
"They said Charles Green was not there [in court] to be cross-examined and he might have been confused when he was interviewed," Mr Bacon said.
But the judge rejected their objections and the video was allowed.
The Home Office gave the go-ahead for police forces in England and Wales to use headcams in 2007.
'Vital evidence'
A grant of £3m was divided between forces for them to buy headcams but a Home Office spokesman said it was not known how many cameras each force had.
Nobody the BBC spoke to at the National Policing Improvement Agency or the Association of Chief Police Officers had ever heard of headcam evidence from a victim who later died being used in a court case.
West Mercia Police, the force involved in this case, introduced body worn video (BWV) cameras, which can be worn on the chest or head, in spring 2009.
A spokeswoman for the force said: "The Crown Prosecution Service has shown their support for its use by demonstrating their willingness to charge suspects where the key evidence is obtained via BWV.
"This has proven particularly beneficial in domestic abuse cases."
Successes to date include footage of a woman's drunken behaviour being used to help obtain a drinking banning order and a man being filmed banging his head on the floor and shouting he was being assaulted by police, affording officers protection from a possible malicious complaint.
Mr Bacon said while he could not speak for other CPS areas outside of the West Midlands, he was not aware of any other cases where an interview with a victim who had since died had been used in court.
He said a case in 2008 had used headcam footage of a defendant in a murder case talking at the scene of the crime and other cases had used footage of victims of domestic violence to show the extent of their injuries.
"In other cases it can be very useful but it has been vital in this case - had the police officer not thought to film Mr Green the jury wouldn't have had this vital evidence," he said.