Ding family murders: Police increase reward to £25,000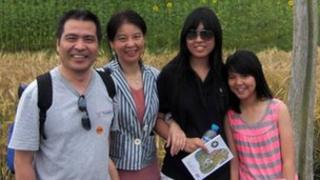 Police have said they are increasing the reward for information on the murders of a family of four in Northamptonshire to £25,000.
Jifeng and Helen Ding and their daughters, Alice, 12, and Xing, 18, were stabbed to death at their home in Wootton on 1 May, 2011.
Soon after the killings, police named Anxiang Du, who has not been traced, as the main suspect in the case.
Four people are on bail on suspicion of conspiracy to assist an offender.
Detectives hunting businessman Mr Du, 52, raised the reward from £10,000 and said they believed he may have changed his appearance.
Det Ch Insp Tom Davies said a national manhunt was continuing, but the search for Mr Du - who has not been seen since the day of the murders - had spread internationally with the help of Interpol and the Serious Organised Crime Agency (Soca).
Mr Du, who worked at a herbal medicine shop in Birmingham, went missing a day after losing what has been described as a bitter court battle over his shared business interests with the Ding family.
It is known that Mr Du left his home in Coventry at 10:30 BST on 29 April, believed to have been the day of the murders, and was seen arriving at Birmingham New Street Station at 11:22.
He was then seen at Northampton Station at 12:35 before getting on a bus to the Ding family home.
The investigation moved to London when the family's Vauxhall Corsa hire car was found in St Johns Wood.
Mr Davies said he hoped the substantial reward would bring new information.
'Assisted by friends'
"I certainly feel that this is an appropriate time to increase the sum of money offered to ensure that we take every opportunity to elicit that vital piece of info which will allow us to identify where he currently is," he said.
"I strongly believe Mr Du is still alive and is being assisted by associates or friends.
"I accept he may have left the UK fairly soon after the murders and we're working with Soca, Interpol, and other law enforcement agencies to ensure the appropriate measures are in place to identify and alert the police should he attempt to travel across borders."
Northamptonshire Police is working with 43 UK police forces and through Interpol are in touch with 180 countries.
More than 2,000 people have been visited and interviewed regarding sightings, information, intelligence and questioning, and more than 5,000 hours of CCTV have been seized.
There have been more than 380 suspect sightings, as well as nine arrests, some of which were made in the belief the person was Mr Du.