Former MP Margaret Moran unfit to face expenses trial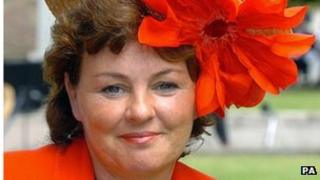 When the expenses scandal broke Margaret Moran was one of the first MPs to be caught up in it. Now she has become the last.
Although the case has been adjourned until November, when a jury will determine whether she committed the acts alleged by the prosecution, the former MP for Luton South has been found unfit to stand.
The charges against her include 21 counts of fraud and forgery, totalling £80,000.
A hearing has been told the 56-year-old suffers from a depressive illness and extreme anxiety and agitation.
Margaret Moran is alleged to have claimed over £22,000 to treat dry rot at a home in Southampton, and to have flipped her designated second home repeatedly, whilst also making claims for properties in Luton and London.
She's the last in a number of MPs charged over their expense claims.
Memories of Moran
She agreed to speak to us at the time the story broke and BBC East political correspondent, Andrew Sinclair, was the last journalist to interview her.
This is his account of a last minute trip to the south coast.
"She didn't want to be filmed at her home in Southampton - so we arranged to meet at my sister's house in nearby Winchester.
"When she arrived I told her both my sister and her husband were psychiatrists."
"I might be needing you soon," she said. "We all laughed," recalls Andrew Sinclair.
"Margaret Moran has never been able to understand the public outrage surrounding her expense claims.
"She insisted the allegations in that morning's Daily Telegraph were vindictive.
"She talked about taking legal action, insisting she'd done nothing wrong.
"I asked her why she'd put in a new kitchen in one of her flats, shelled out £2,600 on a new carpet and £1,800 on bathroom repairs.
"When something falls to pieces you can't live in a second home on the floor with no bed or carpet," she declared.
"Why spend £700 on a new television?," I asked.
"It was a nice telly and we didn't have one," came the reply.
"We've not gone out and bought lavishly."
Three homes
"The main thing people couldn't understand was why an MP for Luton, who worked in London, was claiming expenses on a home in Southampton.
"Her answer was that Southampton was where her partner lived and MPs needed a proper family life.
"It was her second home and that's why the taxpayer should pay towards it.
"Two weeks later she announced that she wouldn't stand for re-election.
"She called me in tears telling me that she had been ill for some time and now her doctor was worried about her long term health.
"But she was still unrepentant: "I may have been stupid but I've done nothing wrong," she insisted.
"I have spent my whole life trying to prove that women can get into politics. I'd now say to them, for God's sake don't do it, you'll get slaughtered."
"Ten months later she was secretly filmed by Channel 4 offering her services as a lobbyist.
"Any sympathy people in Luton still had for her disappeared.
"Margaret Moran was a good MP - she championed local causes, she promoted the role of women in politics and she rose through the ranks at Westminster.
"The tragedy is that she will always be remembered for being caught up in the expenses scandal. "