Flood threat: Warnings for Beds, Bucks and Cambs after rain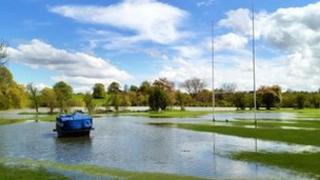 Flood warnings have been issued for parts of Bedfordshire, Buckinghamshire and Cambridgeshire because of heavy rain across the region overnight.
The rivers Nene and Great Ouse are swollen bringing a threat of overflow.
The Environment Agency is working to contain the threat but has warned that flooding is expected.
In Peterborough, underpasses in Lincoln Road and Paston are flooded and the River Nene has overflowed near Cookner and Wansford.
Caravan parks
Flood warnings are in force for North Bank Road alongside the River Nene to the east of Peterborough and west of the Dog-in-a-Doublet Sluice.
South of Cambridge there are flood warnings for parts of Great Shelford, Little Shelford including Hauxton Road, Moor Close and Newton Road and Church Road and Riddy Close in Hauxton.
At Newport Pagnell in Buckinghamshire, there are warnings of possible floods in areas along the River Great Ouse near North Bridge and Woad Farm.
In Bedfordshire, warnings are in force for flooding along the River Ouzel in Leighton Buzzard from Leighton Road to Firs Path.
More than 1,000 people have been forced to leave their homes due to flooding at caravan parks in the Nene Valley in Northamptonshire.