Church insurer installs roof alarms on 'at-risk' churches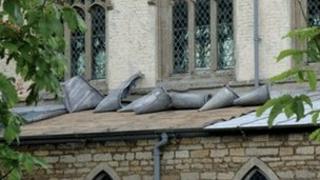 A church insurer is fitting alarms to church roofs in Yorkshire, Cambridgeshire and Suffolk to reduce metal theft.
The alarms are being installed at some of the most "at-risk" churches at a cost of £500,000.
Ecclesiastical, which insures 97% of Anglican churches, received more than 2,600 metal theft claims in 2011.
The company said a pilot scheme had shown installing alarms had "significantly" reduced thefts.
All churches in the dioceses of Ripon and Leeds, Peterborough, and St Edmundsbury and Ipswich, will display signs warning criminals of the presence of roof alarms.
The diocese of Ripon and Leeds said the alarms were virtually undetectable from the ground.
Details of the alarms and their locations are not being revealed, a spokesman for the diocese said.
Ecclesiastical said the diocese of Peterborough had more than 70 claims for metal theft costing £160,000 in 2011.
The diocese of Ripon and Leeds made more than 50 claims costing in excess of £60,000 and the Suffolk diocese of St Edmundsbury and Ipswich had lodged 25 claims costing more than £55,000.
John Coates, Ecclesiastical's director of church insurance, said: "It will make churches a harder target for criminals intent on stripping the nation's heritage of roofing lead for their personal gain."
The scheme is being rolled out across all 42 Anglican dioceses in the UK.