South East businesses hope for Diamond Jubilee boost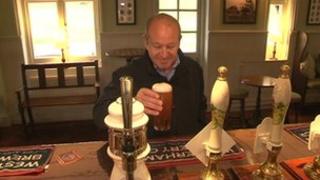 Businesses across the South East hope celebrations for the Queen's Diamond Jubilee will bring an economic boost despite the extra bank holiday.
Last year's additional holiday for the Royal Wedding was said by experts to have hindered the UK's economic growth.
To celebrate the 60th anniversary of the Queen's accession to the throne, the Westerham Brewery in Kent has produced a Jubilation Ale.
Managing director Robert Wicks said it wanted to mark the very important date.
He conceded that was an obvious economic argument behind the launch of the beer which had "gone from a standing start to being right up in the top six or seven best-selling beers that we have at the moment".
In East Sussex, Hastings has been the home of Judges, a leading publisher of picture postcards, for more than a century.
Five years ago, it acquired Sampson Souvenirs, and is now gearing up to benefit from the Jubilee celebrations.
Graeme Wolford, managing director of Judges & Sampsons, said last year's Royal Wedding represented 15% of its business.
"That was 15% that we hadn't really planned," he said.
"This year the Jubilee's slightly different - but with it being such a planned event other people have got on to the market.
"But I'm looking at about 10% of our turnover this year being as a result of the Jubilee range."
Earlier this year, Sir Mervyn King, the Governor of the Bank of England, said he expected the UK economy to contract between April and June due to the Diamond Jubilee bank holiday, which takes place on 5 June.