Roy Hodgson headline in Sun 'unacceptable' FA says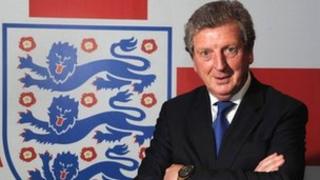 The Football Association has said a front page headline in The Sun about new England manager Roy Hodgson's manner of speech was "unacceptable".
The story, referencing Mr Hodgson's pronunciation of the letter R, has led to more than 100 complaints to the Press Complaints Commission.
News International has not made any comment.
Hodgson, 64, was appointed England manager on a four-year contract on Tuesday.
A spokesman for the Press Complaints Commission (PCC) said: "I can confirm we have had over a hundred complaints."
The FA said it had also received a "large number of objections" to the story about the current West Bromwich Albion manager.
FA chairman David Bernstein said: "We are delighted at the media response to Roy's appointment but are disappointed with the headline in The Sun, which we consider is in poor taste and disrespectful."
The game's governing body will not be making an official complaint to the PCC but said it had raised the issue with the newspaper and "made it clear" the organisation found the front page unacceptable.