Carolyn Still arrested at Mansfield Town-York City game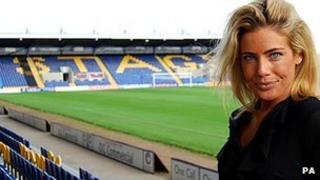 The chief executive of Mansfield Town Football Club was arrested during the game with York City on Wednesday night.
It is understood that Carolyn Still was cautioned for using threatening words and behaviour on Grosvenor Terrace next to York's Bootham Crescent stadium.
The 29-year-old became the youngest CEO in English football when she was appointed by Mansfield last September.
Club owner and chairman John Radford said she had been "reprimanded for a verbal retort to a police officer".
'Hot headed quip'
Mr Radford, who is engaged to Ms Still, said: "As you may know our dedicated and hard working CEO was involved in an incident in York toward the end of last night's game when she went to the aid of one of our first team players who was being ushered out of the stadium by a number of police officers.
"Disappointed by how our player was being treated she was reprimanded for a verbal retort to a police officer.
"This incident has been blown totally out of proportion over a light hearted, hot headed quip in defence of our player.
"I commend the police for their common sense in dealing with the matter quickly and no charges have been made against our CEO."
'Distressed and disturbed'
York City director Sophie Hicks said Ms Still had left Wednesday's game early.
During the eventful Blue Square Bet Premier play-off semi-final Mansfield survived the sending off of striker Matt Green and an own goal by defender Exodus Geohaghon to hold York to a 1-1 draw.
Ms Hicks told BBC Radio York: "The [Mansfield] chief executive, who is a fellow lady in football, was quite distressed and disturbed by last night.
"I think the occasion got to her. It was a bit difficult for Mansfield. She was a bit distressed in the stand and did leave the game early."
A spokesman for the Conference said it was looking into the matter.