Hampshire and City of London police reveal body part retention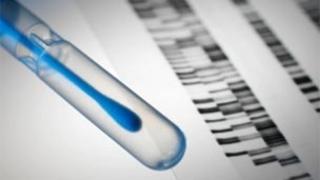 Two police forces kept body parts and tissue samples in 89 suspicious and unexplained death cases without notifying relatives, it has emerged.
Hampshire Police kept tissue samples of 82 people as part of the investigations into their deaths, while City of London Police kept samples in seven cases.
The cases were revealed after Freedom of Information (FOI) requests by the BBC to all English and Welsh forces.
They date back to before 2006, when police could secretly hold samples.
Hampshire Police said in some cases there was a legal requirement to keep samples for court appeals.
Avon and Somerset Police and West Mercia Police previously revealed they had kept samples without the knowledge of next of kin in a total of 154 cases.
The Hampshire and City of London cases bring the total number now known to 243.
'Substantial body parts'
Other English and Welsh police forces have refused to reveal the number of samples that have been kept, despite the FOI requests, with the exception of the South Yorkshire force, which said it had not kept any.
Under the Police and Criminal Evidence Act, forces can retain material taken from bodies during post-mortem examination.
Before the introduction of the Human Tissue Act in 2006, there was no statutory obligation for police to tell families that they had retained samples or body parts.
A spokesman for the Association of Chief Police Officers (Acpo) said: "The police do not normally retain material for a purpose which is governed by the Human Tissue Act and are therefore not subject to the requirement for consent to store or use relevant material.
"As such, there is no statutory obligation for police to inform families.
"As far as possible, the police service follows the relevant codes of practice set down by the Home Office and Human Tissue Authority but there may be operational reasons for the police not informing the victim's family of any retention and decisions in this regard are made on a case by case basis."
It is not known how far the cases date back, but all were before the introduction of the act.
Hampshire Constabulary had initially refused to release details of its retention of samples but later released the figures following a successful appeal by the BBC to the Information Commissioner.
The force said, of the samples it had kept from post-mortem examinations, 20 were "substantial body parts".
City of London police said it had kept a piece of a liver, muscle tissue and a part of an eye called the vitreous humour.
A national audit on retained tissue samples is being compiled by Acpo. It had been due to be completed by the start of the year but is now due to be released in the spring.
Visiting families
The lead officer for forensic pathology at Acpo, Deputy Chief Constable Debbie Simpson, said the audit would allow it to "consider the most appropriate way of sensitively dealing with tissue" which was no longer needed by police.
During the audit, police family liaison officers have been visiting families to inform them that samples have been kept.
The BBC understands that the Acpo report is likely to show many more examples of the secret retention of human tissue samples at other police forces. It may also involve high-profile cases and show failings in investigations.
An Acpo spokesman said he could not provide details of the report's contents.
A statement from Hampshire Police said in some cases there was a "legal requirement" to keep samples for court appeals.
It added the samples were also kept until "convicted prisoners have served their sentences".
"Whenever a suspicious or unexplained death occurs, the police and HM Coroner have a duty to take every possible step to establish the cause of death," the force's statement added.
"Establishing the exact cause of death often involves the retention of material taken during the post-mortem examination."
Material retained by forces comes under three categories ranging from fluids, blocks and slides of samples and substantial parts of bodies.
The samples were kept when there was a murder investigation or when the coroner dealing with the death thought there were suspicious circumstances.