Labour makes gains in South East England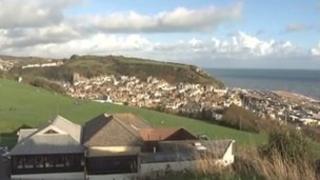 It was a good night for Labour in the South East.
Hastings, a Labour-led council, was a key target for them in the local elections.
They knew they had to make gains there if they could credibly claim to be on track to win at the next general election.
On the night they exceeded even their own expectations.
They gained six seats altogether - five at the expense of the Conservatives and one from the Liberal Democrats.
Lib Dem woes
Although the Conservatives suffered bigger losses, it was bad news for the Lib Dems.
Losing the ward of Old Hastings means there is no longer a Lib Dem presence on the council.
There was also some drama when the vote in St Helens ward was so close it took four re-counts before the Labour candidate was declared the winner.
He beat Matthew Lock, the leader of the Conservative group, by just two votes.
Elsewhere, the Conservatives in Maidstone will be relieved that they easily held on to control of Maidstone Council.
The party kept all the seats they were defending.
Labour will be pleased to have got a toe-hold in Maidstone for the first time in four years, with Malcolm McKay winning the seat of Shepway South.
Winners and losers
There was more bad news for the LibDems who lost two seats - one to Labour and one to an independent.
Labour will also be pleased to have made gains in Crawley - they won three seats. The Conservatives lost three.
The new council make up is Conservatives 21; Labour 16.
I can't help thinking Labour would have liked to make bigger gains here as it was another key target for them.
We weren't expecting any surprises in Tandridge in Surrey. The Conservatives retained all of their 34 seats and there was no breakthrough for Labour in this Tory heartland.
It was also no surprise that Labour didn't make any serious in-roads into ultra-safe Conservative-led Tunbridge Wells either, but the party will be pleased with the seat it won.
But there was one surprise - UKIP managed to unseat the Conservative leader of the council.
Piers Wauchope - a barrister and a former Conservative councillor in London - defeated Robert Atwood in his Rusthall ward by just 46 votes.
Future challenges
Labour have proved they can make gains in the wider South - taking control of Southampton Council.
Here in the South East the party made big gains in Hastings, consolidated in Crawley and gained a toe-hold in Maidstone.
It's not bad for a night's work but even Ed Miliband has admitted they have more to do.
The turnout for these local elections was low - so the results are perhaps less of a ringing endorsement of Labour's policies than a result of a general disaffection amongst the public with all political parties.
All the latest election results are available at bbc.co.uk/vote2012