Tennis charity day for James Cooper and James Kouzaris murdered in Florida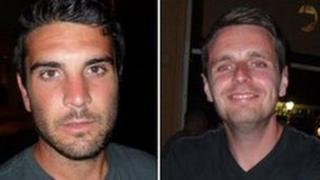 An event has been held in Coventry to raise money in memory of two British tourists killed in Florida.
James Cooper, 25, from Warwickshire and James Kouzaris, 24, from Northampton, were murdered when they stumbled into a run-down area of Sarasota last year.
Judy Murray, mother of tennis star Andy, gave a talk at Beechwood Tennis Club for the Always a Chance charity, set up after their deaths.
Mr Cooper, a tennis coach, once played Andy Murray in a junior tournament.
The two friends, who met at Sheffield University, were killed after drunkenly wandering into the Newtown area in the early hours of 16 April 2011.
Change lives
In March, 17-year-old Shawn Tyson was jailed for life for the murders.
The court heard that hours before the murders, Tyson had been released after his arrest following a shooting on 7 April.
The Always a Chance charity was set up after the friends died to try to change the lives of young people who are most at risk at being involved in violent crime.
It also hopes to support families and victims of violent crime.
There have been tennis sessions and a barbecue held throughout the afternoon.