Boy's brain was 'found in a jar'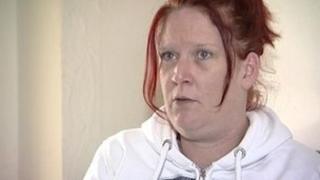 Julie Middleton had no idea her six-week-old son's brain had been kept in a jar in Southampton General Hospital for years after his death in 1999.
It was not until two police officers came knocking on her door in Poole, Dorset, in January that she became aware Regan's brain had been kept after tests into the cause of his death.
"They came in and said, 'we're from bereavement police' and I thought someone had died," she said.
"They said... his brain has been found in a jar in Southampton hospital."
The police investigation later determined the cause was cot death but Regan's brain was retained at the hospital.
Ms Middleton said the news the officers gave her left her "blown away".
Her case is not unique - before 2006, when the Human Tissue Act was introduced, the police and coroners did not have to tell families if they were keeping body parts.
Under the Police and Criminal Evidence Act it is legal for the police to retain body parts and samples during investigations.
'I'm gobsmacked'
But the closure of a mortuary in Cardiff in 2009, where body parts were discovered, sparked a national audit.
Regan died at the height of the scandal surrounding Alder Hey Hospital in Liverpool where hundreds of children's body parts had been kept.
Now, the Association of Chief Police Officers (Acpo) is carrying out a national audit of retained body parts and telling family members.
And a BBC investigation has uncovered another 89 cases at two police forces.
Ms Middleton said the new information about the number of cases where body parts and tissue samples had been retained by Hampshire Police and City of London Police had left her shocked.
"I'm gobsmacked - it's shocked me that it's that much," she said.
"It's not often that I'm speechless but I'm speechless. Not that you have gone through enough back then, it's horrendous.
"The year Regan died was Alder Hey. I thought about investigating this back then - but I didn't."
Ms Middleton said she had initially gone to the media in January to "forewarn others" who might get a knock at their door.
"At least they'd have something in (their) minds," she said.
Acpo has said its national audit into retained human body parts is due to be published in the spring.