Bradford election cliff hanger thanks to Respect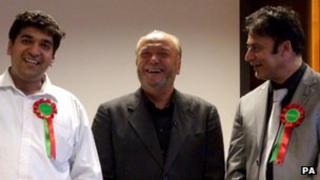 The Richard Dunn Sports Centre on Bradford's inner city ring road is hardly the most glamorous of locations.
But at dawn last Friday morning it provided everything a Hollywood blockbuster could possibly need.
A cliff hanger with bucket loads of tension; high drama; and an underdog finally coming through when it had looked as though all was lost.
I really cannot believe I have just written that about the count for the Little Horton ward in the Bradford City Council elections - but it actually happened.
'Galloway effect'
All the other 29 contests in the election had already been settled.
Just one was still being counted.
Ian Greenwood, the heavyweight leader of the council, was defending the seat he had held for Labour for 17 years.
His opponent, Alyas Karmani, freely admitted that he had not even voted in an election before.
The Bradford-born youth worker came forward as a candidate for Respect just a couple of weeks before the election after being enthused by the landslide win of George Galloway in the Bradford West parliamentary by-election.
Nail-biting end
It was an even more nail-biting final scene than that.
If Labour's Ian Greenwood held on then his party would have a majority of just a single vote in the 90-seat council chamber and he would remain as the full-time council leader.
I was on a balcony with BBC Look North's camera team over 50 metres away from the tables where the count for Little Horton was being carried out.
Both candidates were watching anxiously as the last few votes were checked.
I put out a tweet on Twitter: "A smile on the lips of council leader Ian Greenwood - but is it a wry smile of defeat or the relief of victory? We should know soon."
Late, late show
It was actually two hours later and three recounts before we got the result.
Ian Greenwood lost by 17 votes.
Alyas Karmani became Respect's fifth councillor on Bradford City Council.
Respect's national leader Salma Yaqoob had been waiting all night in the car park outside the count for news of that final result.
She told me that it meant Respect now held the balance of power in Bradford as Labour now only had half the seats on the council.
In fact, she was wrong.
Labour has been a minority administration depending on the council's three Green councillors to run Bradford for the past two years.
Continuing Green Party support should keep the party in the driving seat.
The big change is that Labour in Bradford will now need a new leader to be behind the wheel.