East Midlands Trains drivers to strike again over pensions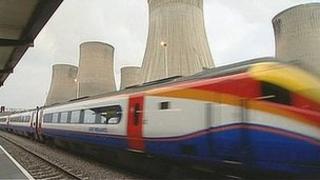 Rail passengers are being warned to expect delays ahead of a third one-day strike by drivers working for East Midlands Trains.
The action is over plans to reduce pension fund contributions for both workers and the firm from July.
Driver's union Aslef said its members want to maintain the current contributions, as they do not want to "cheapen" the fund.
The train company said the change would not affect pension benefits.
Strike action is planned for 8, 10, 15 and 17 May.
This follows two days of industrial action on 1 and 3 May, which resulted in a reduced service.
Talks are due to take place on Thursday in an effort to resolve the dispute.
Clare McCartney, HR director for East Midlands Trains, said: "We want to meet now to get this unnecessary dispute resolved.
"This is a strike over nothing." she said.
"The average driver will lose around £1,200 in pay by following Aslef's misguided call for six days of strike action.
"We do not believe it is right to force drivers to pay £500 a year more in pension contributions than independent experts and the scheme's trustees say is needed."
Aslef said it disputed the claims and called the calculations "unreliable".
Passengers are being advised to check the East Midlands Trains website for information on services.