Petrol station canopies in Markham Moor and Red Hill listed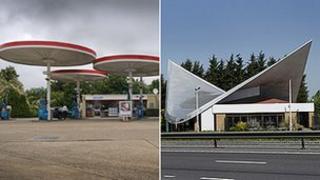 Two 1960s petrol station canopies are to be given listed building status.
John Minnis, from English Heritage, said the canopies in Markham Moor, Nottinghamshire, and Red Hill, Leicestershire, "hark back to a time when driving was still an adventure".
He said that Markham Moor, off the A1, was architecturally innovative, using technology that was "cutting-edge".
The circular, parasol design at Red Hill is the last survivor in a series commissioned for Mobil.
The Markham Moor canopy was used originally for a petrol station and later for a roadside restaurant.
Mr Minnis said the designs reflected the times.
"Back in the beginning of the sixties motoring was still exciting, but somehow we began to fall out of love with the car," he said.
He said listing the canopies did not mean they could not be changed.
"It's saying that these buildings are special and that in any future plans you have to take into consideration their architectural interest."