Devon and Cornwall air ambulances return to duty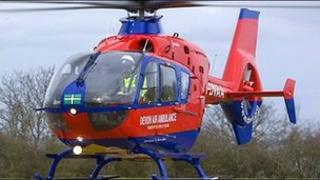 Two air ambulances in Cornwall and north Devon have returned to service after being grounded for 36 hours because of safety fears.
The aircraft were among 22 Eurocopter EC135s operated by Bond Air Services in the UK which were grounded.
The aircraft, at Newquay Airport and Eaglescott Airfield in north Devon, resumed operations at 07:00 BST.
The groundings came after manufacturer Eurocopter told operators a crack had been found in a main rotor hub.
Bond Air Services said it was resuming operations after receiving reassurances from Eurocopter.
Cornwall Air Ambulance said alternative cover was supplied by other services on Tuesday, including the Royal Navy's 771 Squadron Search and Rescue from RNAS Culdrose, which answered two calls.
An EC135 air ambulance based at Exeter and operated by Devon and Cornwall Police remained flying.
Police also operated the force's own EC135 from Exeter.