Girl killed in crash was 'too light' for hang glider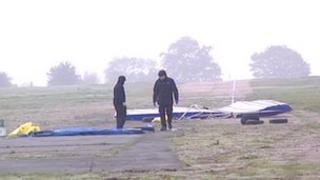 Hang-gliding safety is being reviewed following the death of a 16-year-old girl on her first day of solo flying.
Lois Preston, from Warrington, Cheshire, died in hospital after the accident in Derbyshire on 28 October.
An Air Accidents Investigation Branch (AAIB) report said she weighed less than the recommended pilot weight range for the glider.
The British Hang Gliding & Paragliding Association (BHPA) is reviewing aerotowing procedures.
The report identified factors that "could have made it more difficult for the student pilot to control the hang glider".
It said Miss Preston had been flying paragliders for two years and started hang glider training in April 2011.
The teenager had previously completed 13 tandem aerotows.
Situation 'not recoverable'
She attempted her first solo flight at Darley Moor Airfield on 28 October, but the hang glider started swinging from side to side so she made a safe landing.
On her second attempt the same day, the glider started deviating to the left while still attached to the aircraft towing it.
An instructor on the ground said he saw Miss Preston attempt to correct this by moving her weight, but it was not sufficient, the report said.
He made a radio call telling her to release from the towing pilot, which she did.
The glider then descended in a spiral and hit the concrete and asphalt runway, and Miss Preston sustained a severe head injury.
The report said: "The instructor later commented that he had been startled by the speed with which the accident had happened and his impression was that the situation was not recoverable."
Towline 'too short'
No defects were found with either the tug aircraft or hang glider which could have contributed to the accident.
However, the report said that the towline being used was only 68.3m long when it should have been at least 70m long.
According to the report: "This reduced the pilot's margin for error and meant any angular deviations would develop more quickly."
Pilots control hang gliders by shifting their own body weight, but the investigation found the teenager weighed less than the recommended pilot weight range for the glider.
According to the manufacturer's literature this would have made the glider "somewhat more demanding of pilot skill to fly".
Hang gliding is not regulated in the UK but is conducted under the supervision of the BHPA, which oversees pilot and instructor training standards.
The report said: "The instructor considered that the student had demonstrated that she was more than capable of progressing to solo flight and additional dual training was not necessary."