Communities urged to keep rural banking services alive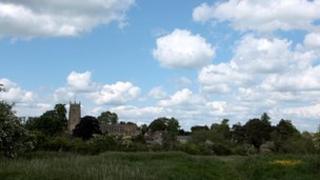 First it was the country pub. Then the village post office. And now the rural bank is becoming the latest casualty of what is widely portrayed as the demise of country life as we know it.
Across the UK, over 1,200 communities have lost their banks altogether, according to the Campaign for Community Banking Services.
Here in the Midlands they say there are now 15 communities which have only one bank left, and 13 where there are only two.
At Bishops Castle in Shropshire, the local Barclays bank is due to close in June, which will leave the town with only one remaining bank.
Customer drift
The local MP, Philip Dunne (Conservative, Ludlow), thinks it's high time for the idea of community banking to be trialled in areas where business for the main banks is not exactly booming.
HSBC has 17 rural branches in the Midlands.
But it says: "We are seeing a significant drift of customer usage away from rural banking, with activity migrating to branches where customers work or do their shopping.
"Equally, customers are using branches for their cash requirements and carrying out more banking activities online or over the phone."
Campaigners have persuaded all but one of the banks to sign a pledge that they will not close a branch if it is the last one in a town.
But those who have signed the pledge say they do not consider a branch to be the last one in a town if there is another one within four or five miles.
It is no mean consideration in itself for elderly people or those without a car now that so many local bus services have themselves fallen prey to the steady erosion of rural communities.
The one bank not to have signed the pledge, HSBC, says it does not talk about four or five mile radiuses.
The last bank in a town means exactly what it says.
Whenever market conditions force them to close one, they leave a cash machine there at the very least.
But the Campaign for Rural Banking Services wants to go further.
Community spirit
The campaign proposes 'brand neutral' transaction centres acting as agents for several banks, possibly based in former bank premises or in local sub post offices.
It would operate through a management company under UK Payments Administration Ltd.
BBC Coventry and Warwickshire's political reporter Sian Grzeszczyk has been finding out what far-flung rural communities might do.
At Kineton, local businesses, farmers and even the local church are rallying around the last remaining bank in town, a branch of HSBC, determined to make sure it has enough business to survive.
"It's the heartbeat of the village," says Mary Wheeldon, a retired florist whose family has been prominent in the local business community for 100 years.
Big Society?
So is that sort of community spirit the answer?
Is it perhaps another suitable case for treatment by the Big Society? Discuss.
Those very committed villagers at Kineton have also been instrumental in setting up their own community library.
This will be one of our talking points on this weekend's Sunday Politics at the earlier time of 11.00 on BBC One, when I will be joined by the following, among other guests:
I hope you will join me too.
And don't forget you can follow me on Twitter: PatrickBurnsBBC