Labour pushes the Conservatives in the east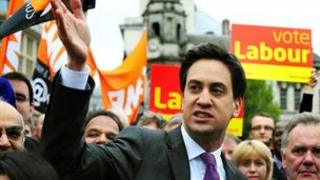 Labour took back significant councils it hadn't controlled for more than a decade on election night 2012.
Conservative voters stayed at home or registered protest votes, and the Lib Dems took another pounding that could do them long lasting damage in the region.
In a dramatic night Labour made strides in this important region for the party, while the Lib Dems were punished for the second year running, and UKIP picked up a Conservative protest vote.
Councillor Tony Ball, the Conservative leader of Basildon, said:
"The overriding message we were getting on the doorstep was people saying, Conservative voters saying: 'We are going to lend our vote to UKIP this time because we want to send a message to the coalition government that we don't think you are standing up for the British people'.
"So that is a message we've got to send back."
Labour gains
Of the councillors who were up for election this time, Labour more than doubled its number of councillors, adding 54.
The Conservatives lost 40, down from 182 to 142, and the Lib Dems lost 12, more than a quarter of its seats.
Harlow, Great Yarmouth and Norwich are now under Labour control for the first time in a decade.
A strong Labour showing moved Cambridge from Lib Dem to no overall control, while the Conservatives lost Southend to no overall control.
Everything else stayed the same.
Labour held its councils of Ipswich and Stevenage while Colchester and Milton Keynes stayed in no overall control.
Conservative heartland
Of course we mustn't forget the east is Conservative heartland.
The vast bulk of our authorities are Conservative and all of these Tory authorities stayed blue this time:
Castle Point
Brentwood
Basildon
Rochford
Peterborough
Welwyn Hatfield
Daventry
Milton Keynes
Huntingdonshire
South Cambridgeshire
North Hertfordshire
Although even on some of these councils there were notable Labour gains.
In Milton Keynes, Labour gained seven, in Great Yarmouth, Peterborough and Harlow there were five gains by Labour in each, with four gains for Labour in each of the councils of Basildon, Ipswich and Cambridge.
Protest vote?
So was this just a protest vote or are people seeing Labour as a real alternative?
The party's campaign Tsar for the East, who spent a lot of time in the region, is convinced attitudes are changing.
Shadow Chancellor, Ed Balls, said: "These votes do make a difference and they reveal something that is happening in the eastern region.
People are saying: "Actually, we like having Labour MPs, we like Labour councillors and we want a Labour government back."
UKIP split the Conservative vote, allowing Labour to make some of those gains.
It also gained a third seat in Huntingdonshire and came close to winning in several other places.
The Lib Dems didn't do as badly as last year. They made gains in Brentwood and held onto all their seats in Colchester with increased majorities.
But losing Cambridge after 12 years hurt.
Liberal Democrat councillor Julie Smith from Cambridge City Council said: "More people are telling us we still like you locally but we want to send a signal to government we are going to vote Labour.
"In some seats we were able to fight off the Labour opposition and in others we didn't quite make it."
The government hopes that this is no more than mid-term blues, but many Tories and Lib Dems are increasingly worried about the price they are paying for being in coalition.