Talks over East Midlands Trains drivers' strike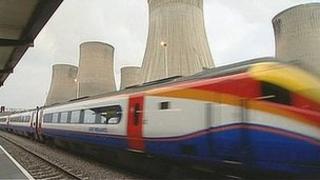 Talks to resolve a dispute on East Midlands Trains (EMT) have begun despite a fourth day of strikes.
Drivers' union Aslef is opposed to plans by the company to reduce pension fund contributions from both workers and the firm from July.
Bosses insist pension payouts will not be affected but the union claims the calculations are flawed.
Passengers have been warned to expect delays but EMT pledged more trains compared to previous strike days.
The majority of EMT drivers are taking part in the one-day strike, which follows three days of industrial action on 1, 3 and 8 May.
Future strikes
Clare McCartney, HR Director for EMT, said: "This is a strike over nothing. The average driver will lose around £1,200 in pay by following Aslef's misguided call for six days of strike action.
"Even today, on the day of talks with Aslef, we have been working hard to give our passengers the best possible service."
The union has argued pension contributions should not be reduced during the uncertain economic climate.
An Aslef spokesman said: "It's a great shame that East Midlands Trains are not putting more time and effort into resolving this dispute rather than running a third class service."
Further strikes are planned for 15 and 17 May
Passengers are being advised to check the East Midlands Trains website for information on services.