Sex offender John Radley absconds from Swindon trial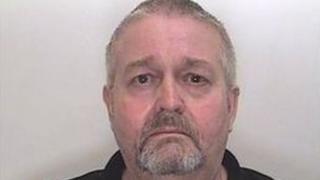 A warrant has been issued for the arrest of a convicted child sex offender who failed to attend the last day of his trial.
John Radley, 56, from Finsbury Park, London, was convicted in his absence by a jury at Swindon Crown Court.
They found him guilty of 16 sex offences against children which took place in Chippenham, Calne and London.
Police said they had searched his London address and further inquiries were being made to find him.
Officers are liaising with his victims, who are now adults, to ensure appropriate support is offered.
Attempted rape
His details have been circulated on the Police National Computer and an alert sent to the ports authority.
PC Lizzie Porter, from the Wiltshire Police child abuse investigation team, said: "Whilst this man committed some appalling offences, for which he will be sentenced appropriately, we do not believe he is an immediate threat to the public but we do need to find him.
"It is not clear where else he may have travelled but he is not believed to have access to a car.
"Whilst our inquiries continue, including liaison with other forces, we are appealing both directly to John himself or anyone who knows where he could be to contact the police."
The court confirmed Radley was convicted on Wednesday of 10 counts of sexual activity with a boy, four counts of sexual assault on a girl, attempted rape and committing gross indecency with a child.