Yorkshire's borehole water stocks boosted by April rain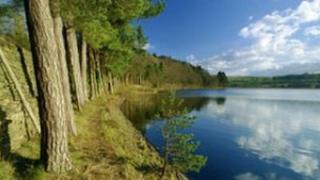 Record-breaking levels of rainfall in April have replenished Yorkshire Water's underground stocks back to normal levels.
Checks by the company in February showed that borehole levels were 20% lower than usual.
It said that heavy rainfall in April and May's wet start boosted stocks by 13bn litres and reservoirs were full.
A spokesman said water was a "precious resource" and urged customers to continue to use water sensibly.
Matt Thompson, from Yorkshire Water, said: "It would be stretching it to say that we're in a record position for this time of year in terms of our water resources, but the recent rainfall has certainly helped to bring our stocks back to healthy levels, with reservoirs full and borehole levels back to where we'd expect them to be for this time of year.
"It's important that stocks are healthy as we're entering into the typically drier months of the year and customers can rest assured that we'll continue to work hard to manage and balance stocks across the region."
To help customers use water wisely, the company is visiting city and town centres across Yorkshire throughout May, June and July to offer free water saving gadgets.
The firm will also be at the Great Yorkshire Show in Harrogate on 10, 11 and 12 July.