Lightmoor: Creating Bournville for the 21st Century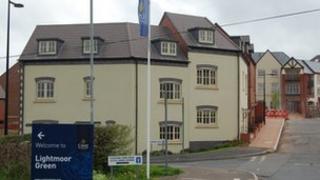 In 1900 the Quaker industrialist George Cadbury, the chocolate manufacturer, set up a housing trust to provide a high standard of living for his workforce.
Bournville Village was built around the Cadbury factory, in Birmingham, as a vision of an ideal village - an urban utopia where residents participated in community events and groups and had a strong sense of belonging.
Those living in the village were provided with sports, education and social amenities aimed at people of all ages.
But could such an idea work today?
In Shropshire a development is under way which is trying to reproduce Bournville in a 21st Century setting.
Outline planning permission was granted for Lightmoor Village, in Telford, in 2003 for 800 homes which would be a mixture of owned, rented and shared-ownership.
So far about 300 homes have been built and occupied.
Great crested newts
A quarter of all homes will be managed by Bournville Village Trust (BVT).
The project is a joint scheme between the trust and the Homes and Communities Agency.
The plans included a primary school, community rooms, assisted living homes for those aged over 50, a family pub, offices, shops and open spaces.
So far the school, community rooms, offices and assisted living home are all open but nobody could be found to run the pub so this autumn a nursery will take over the site.
The shops are all under offer but none has opened yet.
The aim was for the development to be completed in 2014 but then the worldwide economic recession came along and with it a property slump.
Building projects across the country halted with developers reluctant to spend on properties nobody was buying.
In Lightmoor as well as the recession, work was stopped after a colony of great crested newts was discovered.
The amphibians are protected by law so work had to stop to allow the newts to be collected at a time that would not interrupt breeding.
But as property markets picked up and newts were rounded up, work is scheduled to start again this autumn - albeit with the completion date put back by several years.
Many people came to Lightmoor because they liked the concept of recreating Bournville.
Sharing news
Mark McCreddin moved there five years ago.
With a three-year-old child and a baby on the way he is keen to get involved in village life.
Last year he set up a blog and Facebook page called Lightmoor Life , in an effort to share news and give residents a place to chat and plan what they wanted for their community.
He said: "I didn't just move here to buy a house, I moved here to start a family - the pitch was for another Bournville."
It could be easy to complain about the delay in finishing the project, he said, but he felt it was better to work with the community and make it into something great.
"As someone who's lived here with bad footpaths and unfinished roads I know I've got to wait," he said.
"That's why I started the blog and why I get involved in things like the youth group - I want it all to be here for my daughter when she's old enough to use it."
And resident power is working, with a plethora of community groups set up so far including a book club, choir and several football teams.
Sharon Thompson moved to the village because she wanted a larger home for her two children and one step child.
She is now the vice-chairman of the residents' association.
"A group of residents visited Bournville to see how it started and I said, 'In 100 years' time people will be coming to see our village and learn about how it came about'," she said.
"When we moved here there were three babies on our street - they're the future of Lightmoor."
To welcome the newest members of the community, the trust plants a fruit tree in a community orchard for each baby.
Julie Batting moved into Bournville House with her husband Chris in December.
Mr Batting has early stage dementia and was struggling with being left alone.
Mrs Batting said: "My husband needed the extra care and company.
"He's taken on the garden here and there's bingo and things to get involved with.
"I can go out and he's OK, I've got my life back and it's like having my husband back."
Fleur Hemming-Mount is the manager at the Oaktree Centre - a community and leisure centre run by the BVT.
She said: "One of our business objectives was to get residents to set up their own groups.
"There's a great community spirit in Lightmoor - it's amazing that people want to be involved in everything that comes along."
Ben Whitehouse writes for the blog and is also a councillor for the Gorge Parish Council.
He said: "It would be easy to just come home after work and sit in front of the TV but if you get involved in the community things happen.
"We're a village but we have big ambitions and we're already having an impact."
Indeed the blog has not just been used to advertise social events, but also to campaign for more services for the village.
They persuaded Royal Mail to give them a post box after it initially refused and are hoping to get a more regular bus service.
It may be a world away from the village George Cadbury imagined in Birmingham but despite the modern influences Lightmoor Village is reminiscent of how communities were in Britain many years ago.