Surrey Police spent £2.9m on external consultants in two years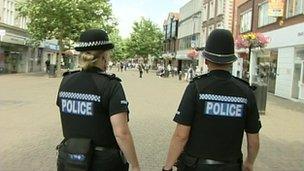 Surrey Police spent nearly £3m in two years on external consultants despite needing to make savings of £30m by 2015, a BBC investigation has found.
A Freedom of Information request by Sunday Politics South East showed the force spent £1.46m in 2010-11 and nearly £1.5m the year before.
The figures are higher than those of other police forces in the South East.
Surrey Police said the "specialist" external consultants had helped to deliver savings of more than £13m.
In a statement, it said the force had undertaken "a series of change programmes including... a review of force estate which have involved the use of specialist external consultants to assist us in achieving the necessary savings whilst improving our focus on the frontline".
"Whilst there has been a cost to bring in external help, it has been an investment helping to deliver more than £13m in savings in 2011-12," it said.
"We have also been able to increase the number of frontline police officers in Surrey by 200 as a result of the financial steps we have taken over the past two years."
The BBC investigation found that Kent Police spent £95,000 in 2010-11, down from £320,000 the year before (2009/10).
The force has to make savings of £45m over four years by 2015.
Sussex Police, which has to make savings of £51m, turned to external consultants for £156,000 of work last year, down from £385,000.
The figures for Surrey Police show that in the most recent year it spent £608,581 on human resources, compared to £189,531 the previous year.
Councillor Chris Botten, who represents the Liberal Democrats on Tandridge District Council, said it would not be wrong to expect Surrey's expenditure to be in line with that of the Kent and Sussex police forces.
"You might even expect the forces to share resources," he said.
"But the fact that the spend is so out of sync with the other two counties indicates to me a systemic problem that needs probably some explanation."
The Deputy Chief Constable of Sussex Police, Giles York, told the BBC he was reluctant to use external consultants too often.
"I'm not really a great fan of using consultants and it's not always my first port of call because we do employ some very skilled people already within the organisation.
"And I think what changed is managing our relationship with consultants very differently, and really questioning what they were doing for us and the value they were giving to us within the organisation.
"But I think it is about bringing them in for the skill base that they bring and also getting rid of them again once they've delivered the value."
Kent Police said it had "specifically targeted its spend on consultants and aimed to move to zero spend this year".
Related Internet Links
The BBC is not responsible for the content of external sites.