Airport protesters target London mayor Boris Johnson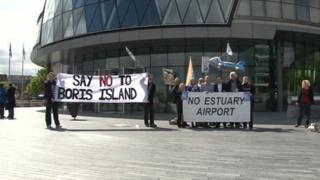 Campaigners fighting plans to build an airport off the Kent coast have staged a protest outside City Hall in London.
It follows Boris Johnson's restatement of his ambition - a week after his re-election as Mayor of London - to build a new airport in the Thames estuary.
The protest outside the mayor's offices came as Kent County Council (KCC) published its own vision of aviation.
KCC wants more use of existing airports such as Heathrow. Transport for London said Heathrow had run out of space.
Two plans have been put forward for airports in the Thames estuary - one on an artificial island, known as "Boris Island" because it has been backed by the mayor, and another by architect Norman Foster who proposes building an airport on the Isle of Grain.
'Quick action needed'
The report published by KCC on Friday, Bold Steps for Aviation , made several recommendations to government.
KCC has called for construction of a high speed rail link between Gatwick and Heathrow, improved rail connections between other regional airports, a second runway at Gatwick after 2019 and development of existing regional airports including Manston and Lydd.
It also recommended any Thames Estuary airport proposals were not progressed any further.
"No action is not an option but action to address capacity issues must be taken quickly," it said.
"Rather than depending on an estuary airport that will take years to develop and may not even succeed, better use of our existing hub and regional airports now will ensure that the UK retains its premier position."
KCC leader Paul Carter said: "We've got high speed trains now coming out of St Pancras, through to Ashford, and an agreement with national government to upgrade the railway line from Ashford through Canterbury to potentially a new station at Manston which really puts Manston airport on the map."
London's mayor declined an interview with BBC South East, but Daniel Moylan, deputy chairman of Transport for London, said the estuary airport was close to Mr Johnson's heart.
He said: "You only have to look at what's been going on at Heathrow, episodes over the last year, even the last couple of weeks, that show Heathrow is almost on its last legs as our major international hub airport."
Mr Moylan said: "It would change a small part of the [Kent] area. It would change it very significantly no doubt and that might be a disadvantage - that would bring some disadvantages and that has to be faced head on.
"But it would bring tremendous benefits to the area."