Duke of Gloucester marks Severn Valley Railway's 150th year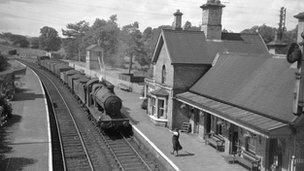 The 150th year of a heritage railway line has been marked in a special royal ceremony.
The Duke of Gloucester unveiled a plaque to commemorate the establishment of the Severn Valley Railway in 1862.
The duke has been a patron of the Shropshire-Worcestershire heritage line since 1998.
He also travelled on the line from Kidderminster to Bewdley in a carriage pulled by the country's oldest working steam locomotive.
The 1863 Furness Railway engine No. 20 has been borrowed by Severn Valley Railway from the Furness Railway Trust.
Today, about 250,000 passengers a year visit the railway, which runs from Kidderminster in Worcestershire to Bridgnorth in Shropshire.
In February, the line celebrated 150 years since its first journey, which saw passengers travel from Hartlebury Junction, near Worcester, to Shrewsbury.
Other events to mark the anniversary are taking place throughout the year.
The duke last visited the railway in 2009, when he inaugurated a new £5m Engine House Visitor Centre at Highley.
Related Internet Links
The BBC is not responsible for the content of external sites.