Teenagers set off on Dartmoor Ten Tors Challenge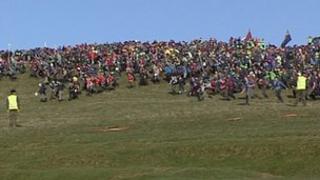 More than 2,400 teenagers have set off on the annual two-day Ten Tors Challenge across Dartmoor.
The event involves young people aged between 14 and 19, in teams of six, trek either 35 (56km), 45 or 55 miles.
Camping overnight, the teams complete the challenge without adult guidance and set off at 07:00 BST.
Almost 300 youngsters with special physical or educational needs will also take part in the Jubilee Challenge, completing routes of up to 15 miles.
'Considerable commitment'
Ten Tors director Brigadier Piers Hankinson said: "The underlying challenge of walking unaided over the forbidding Dartmoor terrain remains as demanding today as it has ever been.
"To complete Ten Tors and the Jubilee Challenge takes considerable commitment and determination."
The majority of the teams who have entered are from schools and youth groups from Bristol, Cornwall, Devon, Dorset, Gloucestershire, Somerset and Wiltshire.
Although it is known to the participants as the Ten Tors, the Army-organised event is called Exercise Wyvern Tor by the military.
Troops involved include members of the Army, the Territorial Army and the Royal Navy.
Some of the personnel assisting to keep the groups safe will also be involved in security for the Olympic Games in London, officers said.
The trekking teams on the moor will camp overnight, and organisers said they were expected to start arriving back at base from 09:00 BST on Sunday.