Peter Falconio reward offer 'offensive'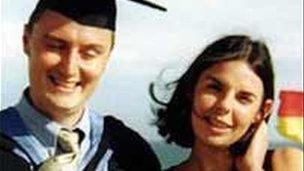 A reward offered for evidence that Peter Falconio, who disappeared in Australia in 2001, is alive has been described as "offensive".
Author Keith Allan Noble is offering a £25,000 reward for information on Mr Falconio's whereabouts.
In 2005 Bradley Murdoch was found guilty of murdering Mr Falconio whose body has not been found.
Mayor of Alice Springs Damien Ryan said: "To put out a reward like this... it doesn't seem to be very sincere."
Mr Ryan called posters advertising Mr Noble's reward, which had been put up in Alice Springs, "a cheap stunt".
He added: "[For] the family and the people involved in the whole case it's pretty offensive.
"A trial has been held, a person has been found guilty. Sadly the problem hasn't be solved for the family involved."
Mr Falconio, who worked in Kent and was from Huddersfield, was ambushed with his girlfriend Joanne Lees while they were driving along a desert highway between Alice Springs and Tennant Creek in northern Australia.
Ms Lees told police she was bound, gagged and bundled into a pick-up before she escaped.
Mr Falconio's body was never found.
Mr Noble, who believes Mr Falconio is alive, created a poster advertising the reward.
He said: "It's not publicity. I'm not interested in the book per se, I'm interested in us finding Falconio."
Mr Noble, who lives in Austria, said he had written five letters to the Falconio family asking them for a response to his claim, but he has not yet had a reply.