Abandoned horses 'double in year', RSPCA says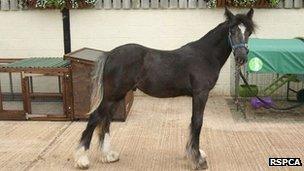 Temporary homes are needed for 38 young horses in East Anglia and the east Midlands, after the RSPCA said it had taken in double the number in one year.
Across the UK it is caring for about 600 horses and ponies, which have been abandoned or ill-treated.
It has started a Stable Future appeal to find homes for almost 300 of those who are aged between one and three years, and are too young to be ridden.
The RSPCA said rising hay costs and careless breeding were partly to blame.
Sally Learoyd, the organisation's equine rehoming officer, said: "Over the past year we've seen a huge increase in the number of horses being disowned or allowed to get into an appalling state, because the trade in horses has collapsed."
In 2011 the RSPCA dealt with 116 complaints regarding abandoned horses in the east region.
Mrs Learoyd added: "I've heard of young horses being sold for £5, which is less than the price of a bottle of wine.
"I've heard of horses being bought and sold in pubs and we've come across a case of someone keeping a horse on a tower block balcony and feeding it on kitchen scraps."
She described all the horses and ponies looking for homes as "happy, healthy and handleable".
Foster carers must have experience of handling horses, have available grazing land and be able to take in an animal for a minimum of six months.
Related Internet Links
The BBC is not responsible for the content of external sites.