Business Minister Norman Lamb to cut red tape
Deborah McGurran
Political editor, East of England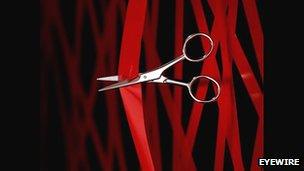 It's rather ironic that the MP for North Norfolk is now a Business Minister and will be responsible for bringing in legislation making it harder for employees to take their employers to employment tribunals.
Before he became an MP, Norman Lamb was a rather successful employment lawyer.
One of the highlights of his career was writing a book called: Remedies in the Employment Tribunal: Damages for Discrimination and Unfair Dismissal.
Although we have to confess that we haven't read it, copies are hard to come by these days.
Apparently, it's an invaluable guide to navigating the minefield of industrial tribunals and getting the best possible settlement for your client.
Changes to employment tribunals are part of the government's attempts to cut back on red tape and make it easier for businesses to get on and do business.
And it's a key part of the new legislative programme, announced in the Queen's Speech.
Mr Lamb has already started selling the idea to business leaders: "Getting rid of unnecessary regulation is one of the elements that drives growth and helps businesses develop," Mr Lamb told a conference in Norfolk.
He revealed that 1,500 different regulations have already been examined by the government.
"Fifty per cent of them will go or they're going to be improved," he told the assembled business community.
A show of hands revealed that just about everyone in this audience felt constrained by red tape.
Red tape takes a variety of forms but the government believes that one of the biggest complaints from business concerns the rules around employing people.
It says that firms, particularly small ones, are daunted by the paperwork involved around taking on new people or dealing with requests for flexible working.
They also worry that if they try to fire somebody they could face an expensive and time consuming visit to an employment tribunal.
"Employment law is putting off people from employing staff and we're going to change that," said Mr Lamb.
He pointed to a new website that would contain all the information needed when firms take on new staff staff which would make the process easier.
There would also be less paperwork to do when an employee asked to work flexible hours.
Most controversially, the period over which a new member of staff can be dismissed without the matter going to tribunal, will be increased from one to two years.
"There are real concerns among businesses about employees who are under performing or maybe lazy and we've got to address that.
"I don't want to remove essential rights protection from workers, people need to feel secure in their employment but we have to make it easier for employers to deal with genuine problems when they occur."
Several people, though, expressed concern about his plans for flexible parental leave.
Wouldn't it lead to even more staff asking for time off to look after children and wouldn't that lead to more paperwork?
The minister disagreed: "If we allow men or women to take parental leave it will mean more women going back to work earlier and that could be good for many employers."
"I think it's important we try to keep more women in the employment market - it's in the interest of the UK economy."
The government, which is relying on businesses growing to get us out of recession, is keen to see these reforms implemented as soon as possible.
Mr Lamb accepts that all governments promise to abolish red tape but says it is made harder because so much regulation these days comes from Europe.
Although every government makes the same promise the minister believes that this time it will be different.
"There's no panacea - we can't say that by scrapping regulation we'll suddenly make the economy grow, but there is a feeling that the burden of regulation and red tape has gone too far and we have to address that."
Mr Lamb's audience gave a cautious welcome to his proposals, while his book remains a hit, reviewed as "dated but not bettered" on the internet.