Paula Gilfoyle death: Police evidence claim probed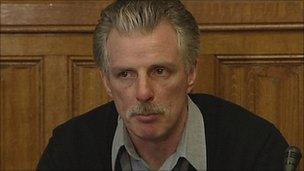 Avon and Somerset Police are looking at claims Merseyside Police sat on evidence which could have freed a man convicted of murdering his wife.
Paula Gilfoyle was eight months pregnant when she was found hanged in the garage of the home the couple shared in in Upton, Wirral, in 1992.
Her husband Eddie Gilfoyle, 50, was convicted of her murder in 1993.
Mr Gilfoyle's supporters said police withheld the victim's diaries from his legal team for at least 16 years.
In August 2010, Merseyside Police handed Mrs Gilfoyle's personal diaries to Mr Gilfoyle's legal team.
Mr Gilfoyle has always protested his innocence but lost two appeals, in 1995 and 2000.
He served 18 years in jail and was released on parole in December 2010.
The diaries, dating from Mrs Gilfoyle's teens to her 20s, allegedly reveal she took an overdose, stood by an early boyfriend who cheated on her with a girl he then killed, and kept a note from another boyfriend saying he intended to kill himself.
It is not known whether the diaries were found during the original investigation or in 1994, when Lancashire Police reviewed the murder investigation.
Mr Gilfoyle's trial was told his wife would not have committed suicide and that she was happy and bubbly, despite a suicide note in her hand.
He was convicted after the prosecution claimed he had made his wife's death look like a suicide by forcing her to write a note.
Avon and Somerset Police is to review what had happened to the box of evidence - seeking to establish who found it, when and what subsequently happened to it.
Paul Caddick, Mr Gilfoyle's brother-in-law, said the family were given no time frame for how long the investigation would take.
He said: "Hopefully, they are going to find out why this box was hidden from the defence, the appeal court and the Criminal Cases Review Commission twice...
"I hope they will do an honest job.
"In a letter to the solicitor they said they would get to the truth of the matter."
Related Internet Links
The BBC is not responsible for the content of external sites.