Man arrested over missing Leicester woman Anne Simpson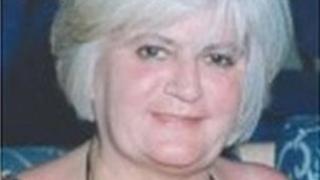 A 62-year-old man has been arrested in Devon in connection with the disappearance of a Leicester woman eight years ago.
Anne Simpson, 60, from the Saffron Lane area, was last seen in Skegness, Lincolnshire, on 26 September 2004.
Lincolnshire Police said it had also begun searching Lakeside Caravan Park at Sutton on Sea after an anonymous call following an appeal last year.
The officer leading the inquiry said murder was one line of inquiry.
Det Ch Insp Nigel Storey refused to say what the man had been arrested on suspicion of and also said there was no connection between the man and the caravan park search.
"The man is in police custody in Torquay and is helping us with our inquiries," he said.
An appeal for more information about Mrs Simpson's whereabouts was made by her two daughters last September - marking the seventh anniversary of her disappearance.
Police said an anonymous man rang from a phone box in Wigston, Leicestershire, offering information which has led to land and underwater searches being carried out at the caravan park.
Officers added that they had been verifying the details of the call since last September.
Mr Storey said: "For seven years, Anne's family has endured the anguish of not knowing what happened to their mother.
"The new information that has come to light may finally provide answers and offer her daughters the closure they seek.
"The anonymous caller possesses further information that will help us obtain those answers for Anne's family and I would urge that person to contact us again and help me find out what happened on the day Anne disappeared."
Number of theories
Mr Storey added there could be a number of reasons for Ms Simpson to have gone missing.
"One could be that Anne has voluntarily gone missing, although from the inquiries we've done that's probably unlikely," he said.
"Another one is that Anne has possibly taken her own life or she could be lying undiscovered somewhere after a fatal accident.
"At this moment in time we cannot establish a connection between Anne and the caravan site."
Jo Hill, one of Ms Simpson's daughters, said: "It's been awful. Every day you imagine what's happened to her and how it's happened.
"We can't put an end to it until we get her back with us at home or something, anything, any answer."