Campaigners claim Kent air plan is 'short-haul stance'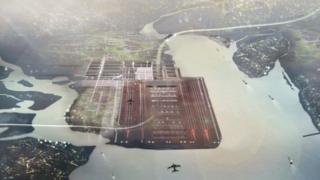 Green campaigners have branded Kent County Council's (KCC) new aviation plan a "short-haul stance".
CPRE Protect Kent said it backed the council's opposition to a new airport hub but was disappointed by its support for the expansion of Manston and Lydd.
The report published by KCC on Friday made several recommendations to the government.
It wants more use of existing airports such as Heathrow and high speed rail links between current sites.
'No business case'
Andrew Ogden, of CRPE Protect Kent, said: "An airport in the Thames Estuary would be a disaster for the environment and communities of north west Kent. The business case presented by those in favour of the development is flawed.
"We are extremely pleased that KCC are standing alongside us and many other groups in opposing any such schemes."
But he added: "Unfortunately, KCC are also promoting the growth of other airports in Kent and aviation in general, which we do not support.
"We opposed the expansion of Lydd airport at a public inquiry, and consider that there is no sound business case for the development of Manston."
'Tremendous benefits'
In the report, Bold Steps for Aviation , KCC called for Thames Estuary airport proposals to be halted.
KCC also called for construction of a high speed rail link between Gatwick and Heathrow, improved rail connections between other regional airports and a second runway at Gatwick after 2019.
Two plans have been put forward for airports in the Thames estuary - one on an artificial island, known as "Boris Island" because it has been backed by the mayor, and another by architect Norman Foster who proposes building an airport on the Isle of Grain.
Transport for London said Heathrow had run out of space.
Daniel Moylan, deputy chairman of Transport for London, previously said although an estuary airport would significantly change a small area of Kent it "would bring tremendous benefits to the area".