Surrey welcomes South West Trains extra carriages move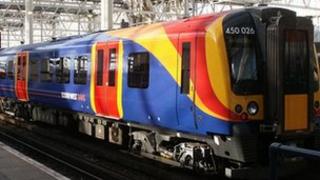 More than 100 extra carriages are to be introduced on the South West Trains railway network by the end of 2014, the train operator has announced.
Longer peak-time trains will serve towns across the network including Guildford, Salisbury, Basingstoke, Portsmouth, Alton and Exeter.
Surrey County Council, which called for more funds for the "overcrowded" network last month, welcomed the news.
Councillor John Furey said good transport was vital to the economy.
South West Trains said the extra carriages were part of an investment announced jointly by the rail operator and the Department for Transport.
'Increasing demand'
The rail company said 48 extra carriages had been secured through an agreement with the government, a total of 108 extra carriages would be introduced between May 2013 and December 2014, and the investment added up to an extra 2,400 seats each day on its network.
Tim Shovellor, South West Trains managing director, said passenger numbers had doubled in the past 15 years.
Transport secretary Justine Greening said adding the extra carriages would not only ease congestion but also boost London's economy.
In Surrey, cabinet transport member Mr Furey said: "We need to reduce bottlenecks and build more platforms at key junctions such as Guildford or Woking, as well as introducing the latest signalling technology."
Surrey County Council has also called for improved rail access to Heathrow Airport from the south, changes to the Gatwick Express so commuters are not displaced on to the Brighton main line, and more services from Reading to Gatwick Airport in West Sussex.