Bodies of Cpl Brent McCarthy and L/Cpl Lee Davies repatriated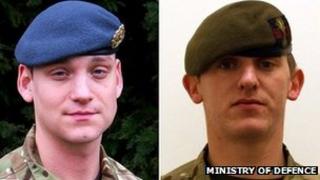 The bodies of two servicemen killed in Afghanistan at the weekend have been flown back to the UK.
Cpl Brent McCarthy, of the Royal Air Force, and L/Cpl Lee Davies, of 1st Battalion Welsh Guards, were shot by members of the Afghan police force.
Cpl McCarthy, 25, from Telford, and 27-year-old L/Cpl Davies, from Cardigan, were providing security at a base in Lashkar Gah district.
Their bodies were flown into RAF Brize Norton in Oxfordshire.
On Wednesday, Prime Minister David Cameron paid tribute to the two servicemen, describing them as "courageous and highly respected men".
Cpl McCarthy, who joined the RAF in 2008, had been stationed at RAF Brize Norton for the last two years.
He was embedded with the Welsh Guards as part of the Police Mentoring and Advisory Group.
Both men were deployed in Helmand province, working alongside the Afghan national police force.