European Championship: 2012's overshadowed event?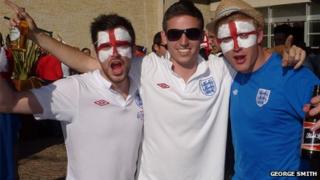 Masses of England football fans clad in the red and white of the St George's flag have been a regular sight at major football tournaments in recent decades.
But ticket sales for this summer's European Championships are down - not just for England but for other nations too.
Over-priced hotels, racially-motivated hooliganism, human rights abuses and the sheer distance are just some of the issues being reported in the media as reasons for fans not travelling to Poland and Ukraine.
Combined with a huge summer of national and international events such as the Olympics, Paralympics and Queen's Diamond Jubilee, the football tournament could end up becoming the overshadowed Euros.
But a diehard core of England fans would not dream of failing to turn out for their team.
With many of the countries competing in the grip of years of severe financial problems - among them Greece, Ireland, Portugal and Spain - austerity may account for low turnout for some teams.
Murder rate
And recent media reports have highlighted apathy and safety fears as two reasons tickets have gone unsold.
But negative stories preceding sporting events abroad are nothing new.
Ahead of the 2010 World Cup in South Africa scare stories abounded about tourist safety.
"Things are overblown by certain parts of the media. Before South Africa we heard a lot about the murder rate and crime rate but it turned out when you were there that, if anything, people were over-friendly," said England supporter George Smith.
He went to the World Cups in Germany in 2006 and South Africa in 2010 and will be making the trip to Ukraine with a group of friends.
They are planning to camp out in public parks after finding hotel prices too high.
"Hotels in Ukraine during the tournament are charging upwards of 200 euros per person and even staying on a campsite would cost 120 euros for two people for one night," he said.
They decided to use hire cars to travel between match venues because they found trains too confusing to book and internal flights too expensive.
"Of course in Germany and South Africa we paid more than you would at other times but it seemed those countries were more geared up for tourists and it was always possible to find somewhere to stay where prices weren't excessive," he said.
"Prices have gone up by 10 times rather than twice as much."
Five-a-side tournament
To try to engage with local fans the friends have arranged England v Ukraine five-a-side football matches in each of the host cities they will be visiting.
He said: "So far, from these people I have arranged the games with, I have only got the feeling of excitement of welcoming all the foreign visitors which has helped to give a more rounded opinion than elements of the British press are giving the tournament."
But England fan Taher Jamjoum, from Ealing in west London, said he would not be going to Euro 2012 after suffering racial abuse while in the Ukrainian capital Kiev on a holiday and business trip.
He said: "I regularly go to Wembley to see games with my family and I applied for tickets to go to South Africa for the World Cup, but I refuse to go to the Euros.
"I was in Ukraine last year and they weren't very friendly. I was verbally abused and it was because of skin colour.
"I am of Middle Eastern origin. They don't care if you are English or American or Ukrainian, it's about colour. I'd never go there again."
Ukraine's President Viktor Yanukovych recently downplayed fears of racist attacks.
He said hooligans were known to the authorities and security services "will be watching all the matches closely".
The Football Association (FA) has sold 2,000 tickets for the first group game, 3,000 for the second and 2,000 for the third.
The FA had 7,000 tickets available for each of the two England group games at the stadium in Donetsk, against France and Ukraine.
A total of 9,000 tickets were made available through the FA for Sweden v England in Kiev.
An FA spokesman said sales for the group stages were at a similar level to the Japan/Korea and South Africa World Cup tournaments.
One group of fans who will be at the tournament have become a fixture of the national team's appearances - the England Supporters Band will be driving to Ukraine to provide music to add to the atmosphere at each England game.
Band leader John Hemmingham said, having attended England games for 20 years, he was used to negotiating logistical and financial issues.
He said: "We've already been out there [to Ukraine] to see what it's like and the roads are not the best.
"But the cities are every bit as up-to-date, Kiev is a massive city and very nice, Donetsk is small and friendly.
"Hotels have put their prices up and the French and English fans have complained to their embassies as those that haven't already booked can't afford to go.
"But prices are coming down now, we've found an apartment in Donetsk for a reasonable price and a hotel in Kiev which is 150 euros a night which is the same as you'd pay in London."
Mark Perryman, spokesman for the England Supporters' Club, said he did not think it was fair to compare ticket sales to turnout for previous tournaments.
He said: "I've heard around 100,000 fans went to Portugal for Euro 2004 but Portugal is a holiday destination which is relatively cheap and easy to get to.
"Germany is also easy to get to and there is a historic football rivalry.
"Ukraine is further away and post World Cup 2010 there is not a lot of enthusiasm about the team."
But he said England's last friendly before the Euros, against Belgium, had sold out, showing there was still "significant interest" in the team.
"Most of the people who are going go to every England game and they are looking forward to it," he said.