M6 toll operator Midland Expressway makes £41m loss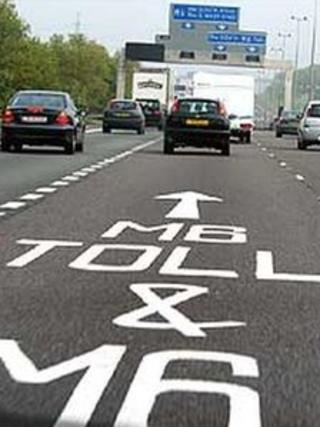 The company which runs the M6 toll road has made a £41m loss in a year.
Operator Midland Expressway Limited (MEL) also saw its revenue fall to £56m in 2011 because fewer vehicles are using the West Midlands road.
MEL head Tom Fanning said: "Like many businesses in the United Kingdom, the M6 Toll has been impacted by ongoing weak economic conditions."
The firm increased the price of using the 27-mile (43.5km) stretch of road in March.
Car drivers now pay £5.50 to use the road following a 20p rise, and lorries are charged £11 - a 40p increase.
Some weekend and overnight prices were reduced.
The toll road, which opened in 2003, links junction 11a of the M6 near Cannock, Staffordshire, to Junction 3a at Coleshill, Warwickshire.
Drivers have said the road is underused because of its prices.
The Association of British Drivers said in January there was a "mad situation" where the toll road was operating at half its capacity, while the M6 motorway it was supposed to relieve was "operating at twice the capacity".