Midlands Air Ambulance faces rising fuel cost challenge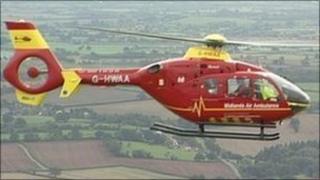 Fuel prices mean Midlands Air Ambulance is facing "a challenging time" as it marks 21 years since its first rescue.
It needs more than £6m a year to stay operational and gets no government or lottery funding, a spokesman said.
Chief executive Hanna Sebright thanked the charity's "passionate fundraisers and loyal volunteers" whose support had "never faltered".
Every one pence rise to the cost of a litre of fuel adds about £47,000 to the monthly fuel bill, the spokesman said.
The spokesman added: "To put this into context, for every three pence of fuel price rise seen, it is the equivalent cost of running an ambulance for a year."
Midlands Air Ambulance said that each year it attends more than 1,000 road accidents, nearly 200 industrial accidents and airlifts nearly 200 children to hospital.
Calls to its helicopter based at Cosworth in Shropshire rose by 21% last year, a spokesman said.
The charity operates three helicopters and said no casualty is ever more than 15 minutes' flying time from the nearest hospital.
Their three air ambulance helicopters are based at:
Cosford Air Base, near Shifnal, Shropshire - covering Shropshire and the West Midlands
Tatenhill Air Base, near Burton-on-Trent, Staffordshire - covering Staffordshire and the West Midlands
Strensham Services on the M5 motorway in Worcestershire - covering Herefordshire, Gloucestershire and Worcestershire.