Rare breed dogs found dead or abandoned, RSPCA reveals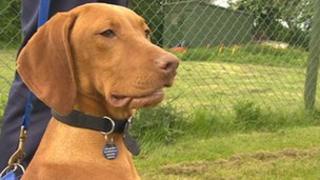 Eight rare breed dogs have been found dead or abandoned in Lincolnshire and Nottinghamshire in the past three weeks, RSPCA officers have confirmed.
The bodies of two female Hungarian Vizslas were found washed up at Lade Bank Pumping Station, in New Leake, Lincolnshire, on 9 May.
The following day, two more dogs were found dead in the water. Four more dogs were left in Newark and Mansfield.
RSPCA Inspector Chris Shaw said the cases showed "blatant cruelty".
All the dogs were aged between four and six months old.
"I, like my colleagues in Lincolnshire, am completely puzzled by this incident involving this breed of dog," said Mr Shaw.
"We very rarely have to deal with Hungarian Vizslas as they are a rare breed and one which people pay a lot of money for, which makes it more curious that someone would dump them.
"These are blatant cases of animal cruelty and we would urge anyone with information to contact the RSPCA."