Thames Water relaxes hosepipe ban for gardening firms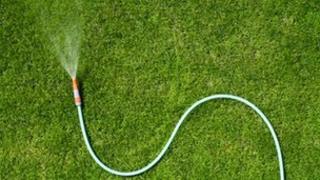 Thames Water has relaxed its hosepipe ban for gardening businesses after record rainfall reduced the severity of drought conditions.
Landscaping, turf and gardening firms will be allowed to use hosepipes to water newly-laid turf and plants, for up to 28 days from planting.
However, the ban remains in force for the rest of the firm's 8.8m customers.
Thames was one of seven water suppliers to impose restrictions on its customers, on 5 April.
Since then, two-and-a-half times the normal amount of rain fell last month and there have been frequent showers through much of May.
'Serious shortage'
The relaxation of the ban only applies for a period of 28 days from the day of planting, sowing or turf-laying.
Richard Aylard, Thames Water's sustainability director, said: "Our restrictions have caused real difficulties for some gardening businesses.
"We are relieved to be in a position to take this step, which will enable them to carry on designing, landscaping, maintaining and building new features and gardens, while safeguarding their livelihoods and those of their employees.
"From today they will be able to water where necessary to get new gardens, lawns and plants established, and their clients will be able to continue this for up to 28 days."
Defra has confirmed London and the south-east still have a "serious water shortage" despite recent rain, with groundwater levels still exceptionally low in some areas.
'Topsy-turvy weather'
Mr Aylard added: "When we imposed the hosepipe ban in April after the two driest years ever in our region and without knowing how long it would stay dry, we were preparing for the worst while of course hoping for the best.
"Since then the heavens have opened and stayed open.
"But while the topsy-turvy British weather - record downpours after a record dry spell - has been working in our favour lately, we need to see how much water gets deep underground where we need it for what could still be a hot-dry summer.
"We will lift the ban completely as soon as we can."
How the drought spread