Cancer survivor Nicki Watkis appeals for foster carers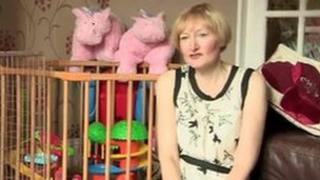 The number of councils wanting to remove at-risk children from their homes has risen - with more than 10,000 requests to courts in England last year - an increase of 10% on the previous year.
The number has been increasing following the death of 17-month-old Peter Connelly in London 2007. His mother, her boyfriend and his brother were convicted of causing his death in 2008. Local authorities are desperately appealing for hundreds more carers to come forward.
"No other job loves you back the way foster caring does with hugs, kisses and love," says foster carer Nicki Watkis, 43, who has been caring for 18-month-old twin girls for seven months.
Five years ago the mother-of-three and stepmother of two was diagnosed with cancer and underwent chemotherapy and radiotherapy.
A high-flying computer programmer for British Airways, Mrs Watkis, who is married to Arthur, was forced to take stock of her life.
In the back of her mind she had always wanted to be a foster carer, but it was only when she took unpaid leave for eight months that she made up her mind.
She said: "Everything changed the day I was diagnosed. I ended up taking voluntary redundancy from work and it helped me to realise that there was more to life.
"I had my life back and I wanted to give something back to the world. But I thought having a medical history like mine would rule me out and they wouldn't even consider me rule.
"But the primary concern was that I am fit and healthy now."
Mrs Watkis is currently caring for identical twin girls, and initially the family had to "label" them with wrist name tags to tell them apart.
"The twins love having stories read to them and just all the simple things that all children love.
"I love it when people stop me in the street and ask how old they are. The only downside is that it does take ages to get your shopping done because people do keep stopping us," she said.
Mrs Watkis loves the children she cares for at her spacious five-bedroom home in Durham, but also tries to remain detached enough to treat fostering like a job.
She knows that her role fostering for Durham County Council is vital, but also that her time with the children is temporary.
"I recently looked after a young boy until he was placed. It is really awful handing the kids back because inevitably you do get attached to them.
"It's like handing your own child back but what you have to think about is what you're doing for them. It really is an amazing feeling," she added.
Durham County Council has about 600 children in need of foster carers, but only 250 carers on the books.
Usually carers get a week, even two weeks' notice, but sometimes children need to be removed from their homes quickly.
Mrs Watkis said: "Children can arrive in the middle of the night with very little and become a member of your family and you love them in exactly the same way as you love your own children.
"But it is also a job - we keep a journal on the children and fill it in every day about what kind of activities them have been doing."
Ali Napier, workforce learning and development officer at Durham County Council, said foster carers were not on their own once they had taken children into their home.
She said: "There is a shortage of foster carers and we are hoping to recruit a lot more. A lot of people are put off because they think they will be on their own.
"But there is actually lots of support available and training courses. We want to hear from people who have understanding, empathy and a real insight into what children need.
"Don't rule yourself out. You can be married, single, straight or gay and you don't even have to own your home. Anyone has the potential to be a foster carer."
Foster carers are paid a minimum allowance per child, per week.
Stockton Council currently has 300 children in its care, but needs many more foster carers to offer up their homes.
A spokesman for the council said: "Many of these children will eventually return to their families.
"In some cases this may take a matter of days or weeks, in others it may take much longer and the children could be living with you for one or two years."
Mrs Watkis added: "It is such a beautiful experience that you have done so much for this child, even if they don't remember it."