Chelsea Flower Show designers weather 'nightmare'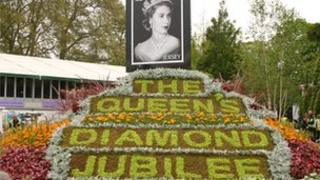 First came the drought then weeks of heavy rainfall followed by a cold snap - the changing conditions made things tough for anyone involved in growing plants. So how have garden designers prepared for this year's RHS Chelsea Flower Show?
From hose pipe bans to flooding to plunging temperatures, gardeners have described a "nightmare" situation with some having to substitute the plants in their creations to suit the climate.
Jo Thompson, garden designer for A Celebration of Caravanning show garden, said: "It's been a funny spring, the plants have been late. We've had the drought and we've also had cold, we've had no light and that's the most important thing for plants growing.
"I went to the nursery six weeks ago and there wasn't anything in flower, so we were all really worried. When we got here I realised everybody was in the same situation and every designer was worried about their plants.
'A happy accident'
"Originally this garden was going to be full of blousy rose and big pink peonies but we didn't have any roses so it's become more grassy, wild and loose which I really like - a happy accident."
There are over 500 exhibitors at the show, which covers 11 acres of ground and takes 800 people 33 days to build.
Show gardens are built in three weeks and small gardens in 10 days with all of them having to be taken down in five days.
A flowerbed containing 30,000 plants to welcome the Queen as she visits the show later has been designed by the Parish of St Helier, in Jersey.
Dale Hector, from the project, said: "It was a nightmare because it has been very cloudy and rainy, we haven't had enough sunshine to bring some of them (the flowers) out.
"We cheated a bit by bringing a bit more foliage so we hedged our bets a bit and the foliage complemented the flowers we did have."
'Challenging spring'
Jonathan Smith has designed a garden in the Artisan section of the show based on the Dorset countryside.
He said: "We've had a little bit of trouble getting a lot of our wild flowers ready in time because we've had a challenging spring.
"It was nice early on in March, it was warm and temperatures were great and things started to really come out but then we were hit with lower temperatures, some frosts and everything has been held back.
"We even had orchids under grow lamps to try and bring them on."
However, one garden at the show is ready to cope with changing weather.
The Climate Calm Garden, sponsored by a combination of water companies from the south of England, has been created to inspire gardeners to use less water in times of drought.
Garden designer Nicholas Dexter said: "They wanted to highlight water shortages and that the climate was changing. The current trend is that we have prolonged dry spells and then sudden downpours.
"We felt that gardening shouldn't be a drain on resources. Annually there is a spike of 70% increase in water usage in the summer months and that's simply down to hose pipe watering of gardens.
"This garden uses the right plants in the right places, it's a study of Mediterranean and steppe grassland plants - plants that are tough and resilient, more used to continental climate conditions so they can endure hot, dry periods.
"I think that people need to reassess what plants are in their garden."