Child death mother Melanie Ruddell 'was confused'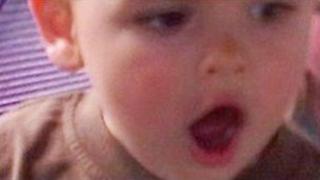 A County Durham woman who strangled her toddler has told an inquest she was having hallucinations and hearing voices at the time of the killing.
Melanie Ruddell carried the body of two-and-a-half-year old Christy into Peterlee police station in August 2010.
The 39-year-old, of Castle Eden, was later detained under the Mental Health Act after admitting manslaughter on the grounds of diminished responsibility.
Ms Ruddell gave evidence to the inquest via videolink from a secure unit.
'Separated for ever'
She she said that she loved her son, but felt frightened and anxious for him.
She said: "I was confused, very confused. I heard voices and screaming. I was scared to a level as though I was hanging off a cliff."
Family and friends persuaded her to go to Hartlepool Hospital's accident and emergency unit, but she later discharged herself.
She said: "I wanted the police to come and protect us but at two in the morning I thought 'that's it, we're going to be separated for ever and ever'."
The inquest, which is expected to last for two weeks, continues.