Lord Lucan witness Shirley Robey reveals her identity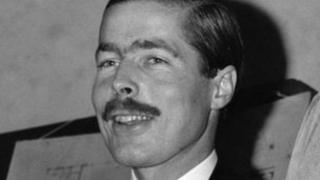 A woman who claimed she helped Lord Lucan live a secret life abroad has revealed her identity.
Shirley Robey claimed the missing aristocrat fled to Africa and she made arrangements for his children to fly to the country so he could see them.
She told the BBC her story in February, under the assumed name of Jill Findlay.
Ms Robey said she hoped by revealing her identity, people would take her claims seriously. Lord Lucan's wife has dismissed her claims as "absurd".
Lucan disappeared in 1974 after the murder of his children's nanny, Sandra Rivett, who was found dead at Lucan's home in Belgravia, London.
The peer's blood-soaked car was later found abandoned in Newhaven, East Sussex.
Lucan, born Richard John Bingham in 1934, was officially declared dead by the High Court in 1999.
Aristocrat 'liked England'
But since his disappearance there have been more than 70 alleged sightings of him in countries across the world including South Africa, Australia, Ireland and the Netherlands.
Ms Robey, who now lives in France, worked for Lucan's friend, the Kent conservationist John Aspinall. She said she attended meetings where the missing aristocrat was discussed by her boss and Sir James Goldsmith, the multi-millionaire businessman.
She said she was instructed to book flights to Africa for his two eldest children on two occasions between 1979 and 1981.
Lucan would have been able to see them from a distance but he would not meet them or speak to them, she said.
Ms Robey contacted police after being interviewed by the BBC's Inside Out programme.
The Metropolitan Police said any significant new information would be fully considered.
Earlier this year, the Countess of Lucan said he would not have coped abroad and her children could not have gone to Africa because they were wards of court.
Lady Lucan said he liked England, could not speak foreign languages and preferred English food.
She believes he threw himself off a ferry at Newhaven, East Sussex.